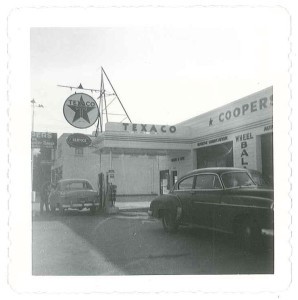 Founded in 1946 by Robert Cooper and his son Keith, Cooper's Auto Service opened business in Portland out of a leased Atlantic Richfield gas station on 17th and SE Powell Blvd.
The idea behind starting a small business at that time was as much out of necessity as it was a passion for cars. Having moved to the Northwest following the conclusion of WWII, the Cooper family hoped to find greener pastures out west, away from the lasting effects of depression era Kansas. Keith planned on coming to Oregon to attend college, finish his engineering degree, and parlay his military experience to become a test pilot for an aircraft manufacturer.
Robert came with the rest of the family expecting to use his background as a service manager at a dealership in Emporia, Kansas, to work for a dealership in Portland. Unfortunately, in the time it took to gather up belongings and travel halfway across the continent, things changed. With the flood of young men returning from the war, available jobs filled quickly and once promised jobs disappeared. Their only choice at that point was to risk what savings they had and start a business of their own.
It began in modest fashion, with Robert working during the week pumping gas and performing mechanical repairs, and with Keith coming up from college on the weekends to fix body damage on cars for later sale. Soon, Keith had an engineering diploma in hand and a growing business with his father, though his original dreams would go unfulfilled with cutbacks in the defense budget.
As their reputation for honesty and good quality work spread, it eventually allowed them the opportunity to buy a facility of their own. They purchased a gas station on 104th and Northeast Halsey in 1951 (current location) and began developing the business into one of the best repair facilities in Portland. The original structure expanded several times over the next 20 years and eventually a larger two-story building was added next door. A separate part's business also evolved, as did other specialty services. By the time of Robert's death in 1971, Cooper's had accumulated a tremendous following and had grown beyond expectations.
The next two decades, however, would prove to be a challenge. With oil embargoes, swings in buying habits, and changes in technology, the ups and downs of the automotive trade seemed to be the norm. With Keith's death in 1988, the fate of Cooper's Auto Service seemed uncertain. At a crossroad, Keith's son Corry (also an engineer) and youngest daughter Shelley moved to the front office to fill the void, and with that, a rebuilding process began. Facilities were upgraded, new equipment brought in, attention to customer service reinforced, bringing the business back to a level of performance and quality it had enjoyed in the past.
Today, Cooper's Auto Service and its third generation owners strive for the same high standards in auto repair and customer satisfaction as it did when it first opened its doors over 70 years ago. As a general repair shop providing complete repair service for most types of cars, the future continues to look bright for its customers well into the new millennium. Naturally, the family is proud to provide its quality service to you!